A large continent with as many as 54 countries, business in Africa, is a tough nut to crack. But then, what's a business without challenges, right? Africa with its fast-growing population and markets is becoming a hot and important opportunity for businesses which a lot of eCommerce store owners are grabbing it now.
Africa has outstanding potential as a growth market for business which is underestimated and misunderstood often a bit due to lack of infrastructure, illiteracy, poverty etc. But a lot of eCommerce marketplaces are taking up it as a challenge and are bringing about the transformation which seemed impossible earlier.
African eCommerce Statistics
Countries like South Africa, Nigeria, Kenya, Morocco, Senegal, Ghana all have large domestic marketplaces today which are growing fast incredibly well. The 2018 United Nations Conference on Trade and Development (UNCTAD) B2C E-commerce Index which measures an economy's preparedness to support online shopping based on four indicators: bank or mobile money account penetration, internet usage, availability of internet servers and the reliability of postal services ranked 151 countries globally, including 44 African nations. The results of which were as such;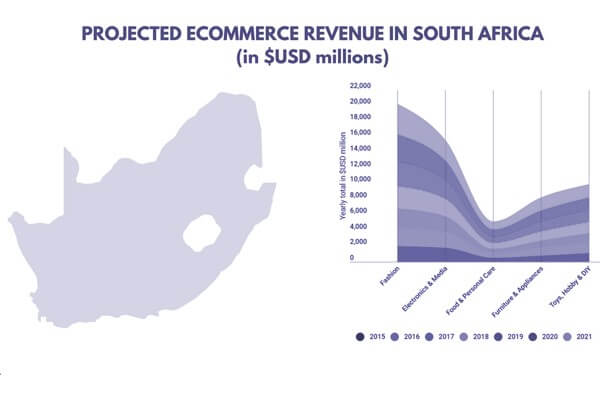 (Image Source: Statista, eCommerce South Africa)
Mauritius top-ranked the index and has the second highest proportion of shoppers on the continent.
Libya, ranked 13th in Africa for e-commerce readiness, having the highest proportion of online shoppers on the continent among people aged 15 and older.
Nigeria, South Africa and Kenya estimated for nearly half of Africa's estimated 21 million online shoppers.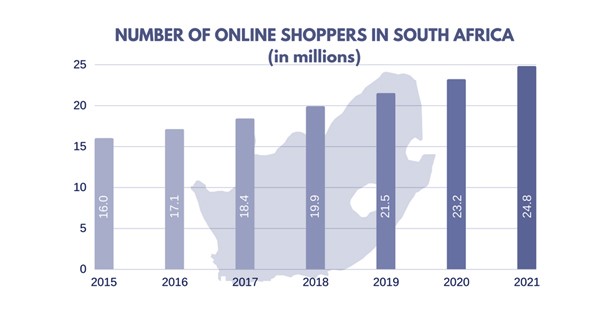 (Image Source: Statista, eCommerce South Africa, User in millions)
Since 2014, overall, the number of online shoppers across the continent has grown around 18% which is higher than the global average. Africa's consumer e-commerce market valued at $5.7 billion in 2017 is less than 0.5% of the continent's GDP, far below the global average of 4%.
eCommerce Craze in Countries
In Nigeria, with a population of 195 million people, has the most ecommerce sites and 40% of Africa's ecommerce ventures have headquarters in Nigeria. It has an internet penetration of 70% and 26% of the population were recorded to have bought something online via phone in the past month as of 3rd quarter 2017.
South Africa on the other hand with a population of 57.4 million and 65% internet penetration, recorded 18% of mobile shoppers in the past month as of 3rd quarter 2017. South Africans are found to spend mostly in the fast food category of online shopping, while groceries are still purchased in-store than online.
Kenya with a population of 51 million and an impressive 82.6% internet penetration is home to M-Pesa, the mobile wallet provider started by mobile telecom provider Safaricom. More than 45% of Kenyan adults use M-Pesa according to Emergent Payments. 85% of Kenyans have adopted electronic means of payment, including bank accounts, mobile phone prepaid cards or other payment products. You won't believe, about 75.5 % of mobile shoppers were recorded in the past month as of 3rd quarter 2017 in Kenya.
Ghana, having a population of 29.46 million and internet penetration of 45%, has taken eCommerce so seriously that it has a website dedicated specifically to ecommerce for SMEs.
Growth of Local eCommerce Platforms
Although Amazon, the eCommerce giant, showed no interest in the African market, a lot of local eCommerce platforms have emerged in the past few years to such extent that about 90% of investment is going those eCommerce start-ups in five African countries. One among such that has gained the limelight is Jumia.
"Jumia" – the Amazon of Africa: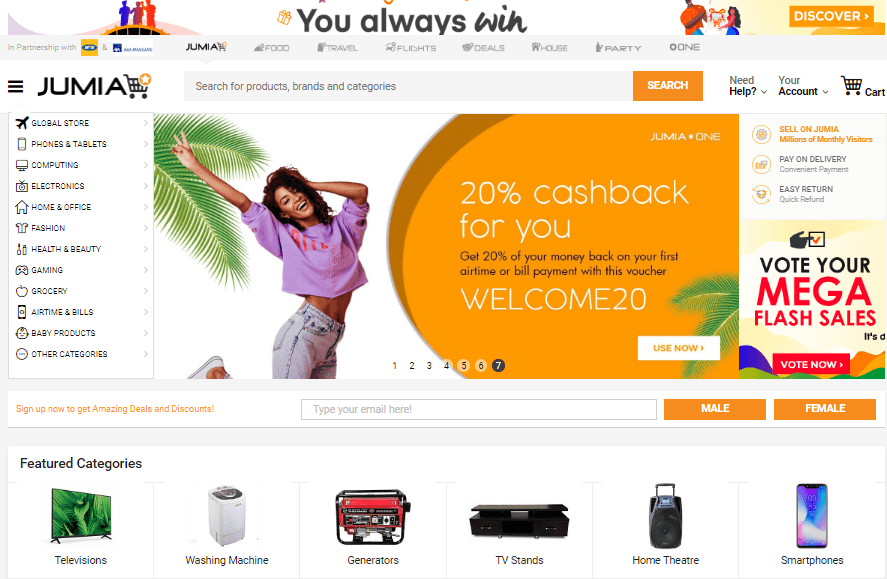 (Image Reference: https://www.jumia.com.ng/)
A Nigeria-based group, Jumia which was founded in 2012 by the Berlin-based Rocket Internet, is Africa's best-funded ecommerce start-up with more than 3,000 employees. It operates in 14 countries in Africa and the Middle East, with each country having its own site.
Jumia has solved the logistics barrier in Africa to a great extent with more than 500 motorbikes and trucks delivering their online products to customers in the country's eight largest cities. Jumia accepts COD, which, again, is the preferred payment method for most Africans and has raised $150 million in 2014 alone.
"Konga.com"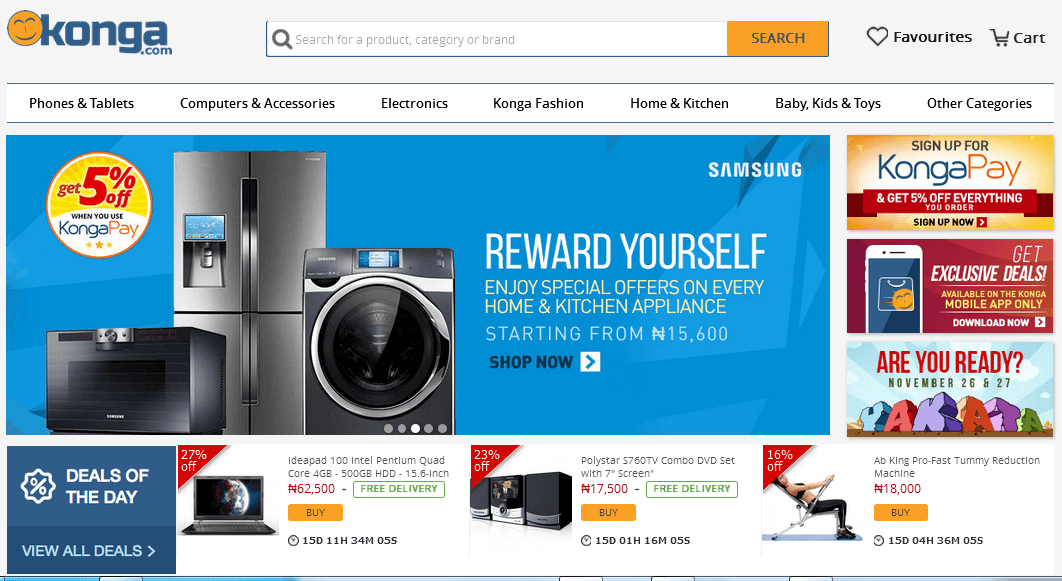 Konga.com, founded in 2012 in Nigeria that does not operate outside of Nigeria, opened Seller HQ, a third-party marketplace in 2014, now has about 1 million customers and receives over 300,000 unique visits daily. Its own logistics network — KOS Deliveries has a fleet of over 200 vehicles (vans, trucks, and motorbikes) and pick-up points and distribution centres in every part of Nigeria.
Konga even has its own payment system — KongaPay — that works with all banks in Nigeria. In 2018, Konga was acquired by a local hardware and information-technology services company, Zinox.
Success Secrets
The African population is fast growing and urbanizing. It may reach 1.7 billion by 2030.
Africa is witnessing an industrial revolution.
The infrastructure gap is nearing closure. Africa's annual investment in infrastructure has doubled to around $80 billion a year which represents a big opportunity for investors and entrepreneurs.
New broadband connections and mobile data traffic are increasing which shows a good scope for mCommerce.
For an eCommerce marketplace to be a success in Africa is not as easy as other continents but is not impossible either. With a well-developed multi-vendor marketplace software, your strategies and market study, you can figure out excellent growth opportunities in Africa.