The mobile platform has not only changed the way humans communicate today but also redefined their buying patterns. Research shows that 96% of Americans own a smartphone, and considering 69% have shopped on mobile at least once in their lives shows that this technology is here to stay. Businesses must leverage that.
Interestingly, the monopoly of mobile apps was challenged several years ago with the advent of Progressive Web Apps. Short for PWAs, they are a powerful combination of the web technologies such as HTML, JavaScript, and CSS and the feel and functionality similar to an actual native app. PWAs do not require any downloads and can be delivered through the web.
How PWAs Outperform Native Apps in eCommerce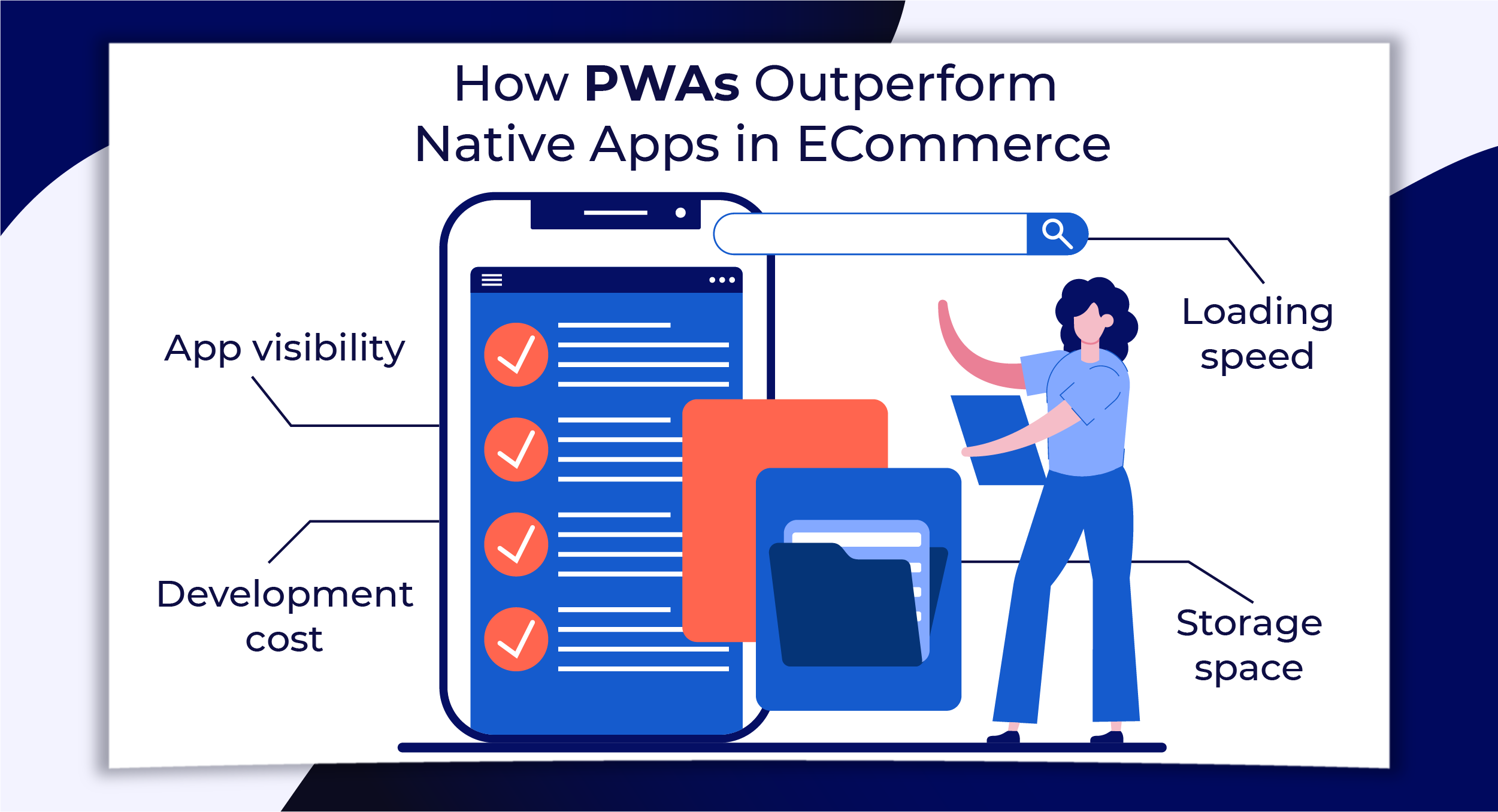 Although the amount of revenue that mobile apps drove globally exceeded $580 billion in 2020, there are several ways in which PWAs outperform them:
1. Loading speed
Since PWAs use service workers to manage requests, caching, and storing shell data, they load quicker than a native app — even without the internet. However, the data would not refresh until the app is reconnected to the internet.
But that is a small price to pay when it comes to delivering excellent user experience. Since loading speeds have a tremendous impact on user retention and engagement, this is a critical benefit of a PWA.
2. Development cost
Building a PWA that runs on multiple operating costs and platforms is cheaper than developing a native app from scratch for both Android and iOS. In fact, it would dramatically reduce your workload as you would not have to invest time updating it and adding new features to it now and then. Managing PWAs is hassle-free.
3. Storage space
Native apps take up space on the mobile phone. The heavier the app, the more space it will take — which is not favorable in the long run. With PWAs, that is never a problem. The end users can access the PWA's full functionality without having to worry about the storage space.
4. App visibility
Unlike native apps that can be downloaded from the app store, PWAs can be accessed on the browser. A PWA is basically an app-imitating website that needs to be search optimized, increasing the opportunities for organic growth and engagement.
Key Features Of Mobi PWA Solution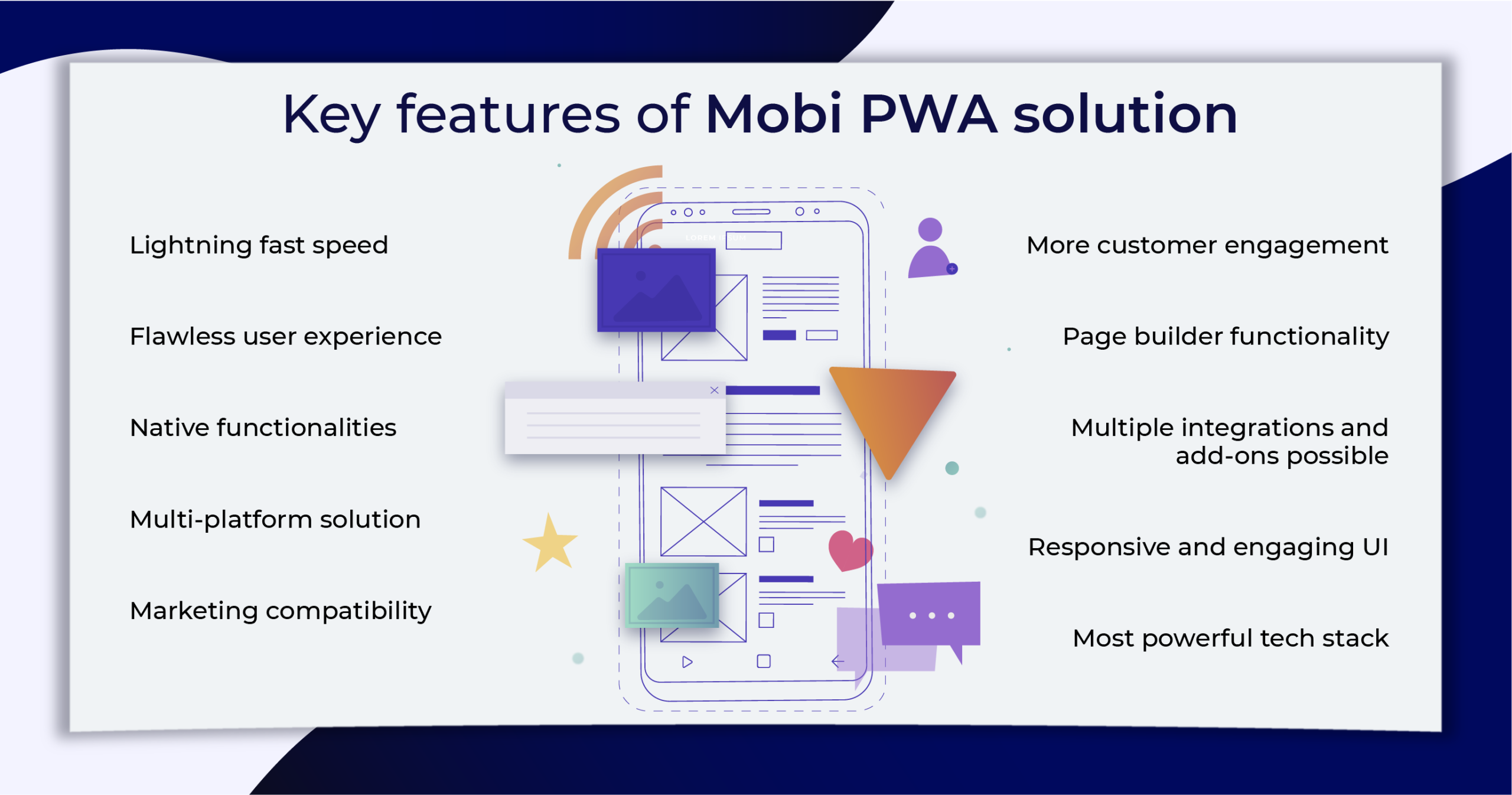 Our Progressive Web App Builder is everything you need to achieve success and consistent growth in your eCommerce business. It is compatible with Magento 2.3 version and enables you to create blazing fast and reliable customer experiences on mobile.
Mobi PWA delivers the convenience and utility of the mobile app combined with the reach and engagement of a website in a way that benefits both end customers and eCommerce business owners. Here are ten features of Mobi PWA to know about:
1. Lightning fast speed
Speed is everything online, and if you want to capture your audience's attention for the long haul, you must deliver a storefront where it loads the pages fast. Mobi PWAs use service workers to do local caching and fetch data. This means the page content within milliseconds — even without the internet connection. Who does not want that?
2. More customer engagement
You want your customers to be receptive to your offerings. Your business success depends on it! Mobi PWA is engineered to bridge the gap between demand delivery with smooth checkout, simple UI, and fast speed. You can enjoy 50% higher customer engagement rates with our PWAs. That is a guarantee!
3. Native functionalities
Our mobile-first UX emphasizes making shopping easy for your customers. Besides, our PWA app builders are highly secure, multi-browser-responsive, and SEO-friendly. You can send push notifications and give access from the device's home screen — without installing it!
4. Multi-platform solution
Your customers are everywhere, which is why developing an app for just one platform is a huge mistake. Mobi PWA is designed to deliver a unified experience across devices. Whether it is mobile or desktop, they will browse through and shop the same way.
5. Marketing compatibility
Knowing how your storefront is performing across platforms is imperative for business growth. Our Mobi PWA helps you analyze your marketing efforts by easily integrating with Facebook Pixel, SEMrush, and Google Analytics. Numbers speak volumes; listen.
6. Flawless user experience
Eliminate the distracting navigation menu on the top and the address bar at the bottom to enable your customers to see the big picture. Allow them to "add your app to home screen" without downloading the app from the app store.
7. Page builder functionality
MobiCommerce wants you to envision the PWA of your dreams, where our proprietary page builder comes in handy. Allow yourself to design the app interface however you like. Create the homepage and category pages using our advanced widgets. You do not need any technical expertise to do this.
8. Multiple integrations and add-ons possible
Our developers will ensure your PWA has all the necessary integrations in place. For instance, if you want smooth web browsing functionality, we would suggest PrestaShop. If security is a huge factor for you, we will go with WooCommerce. Similarly, we would integrate your app with other tools like SEMrush and GA.
9. Responsive and engaging UI
PWAs allow you to offer your end-users a unified experience on the browser and the app installed on their devices. As the interface would be the same on both platforms, the user would not have to learn browsing through more than one interface.
10. Most powerful tech stack
Build a high-performance PWA on Magento that has proven its mettle in the market for boosting user engagement, conversions, and the bottom line. Mobi PWA is exactly the eCommerce PWA solution you want — robust and timeless.
Combine the strength of Magento with the richness of React Native, which comes with a best-in-class JavaScript library for building user interfaces.
In a nutshell, if you aim to fetch maximum traffic to the app without compromising the user interface, Mobi PWA delivers that smoothly and cost-effectively.
Four PWA examples in eCommerce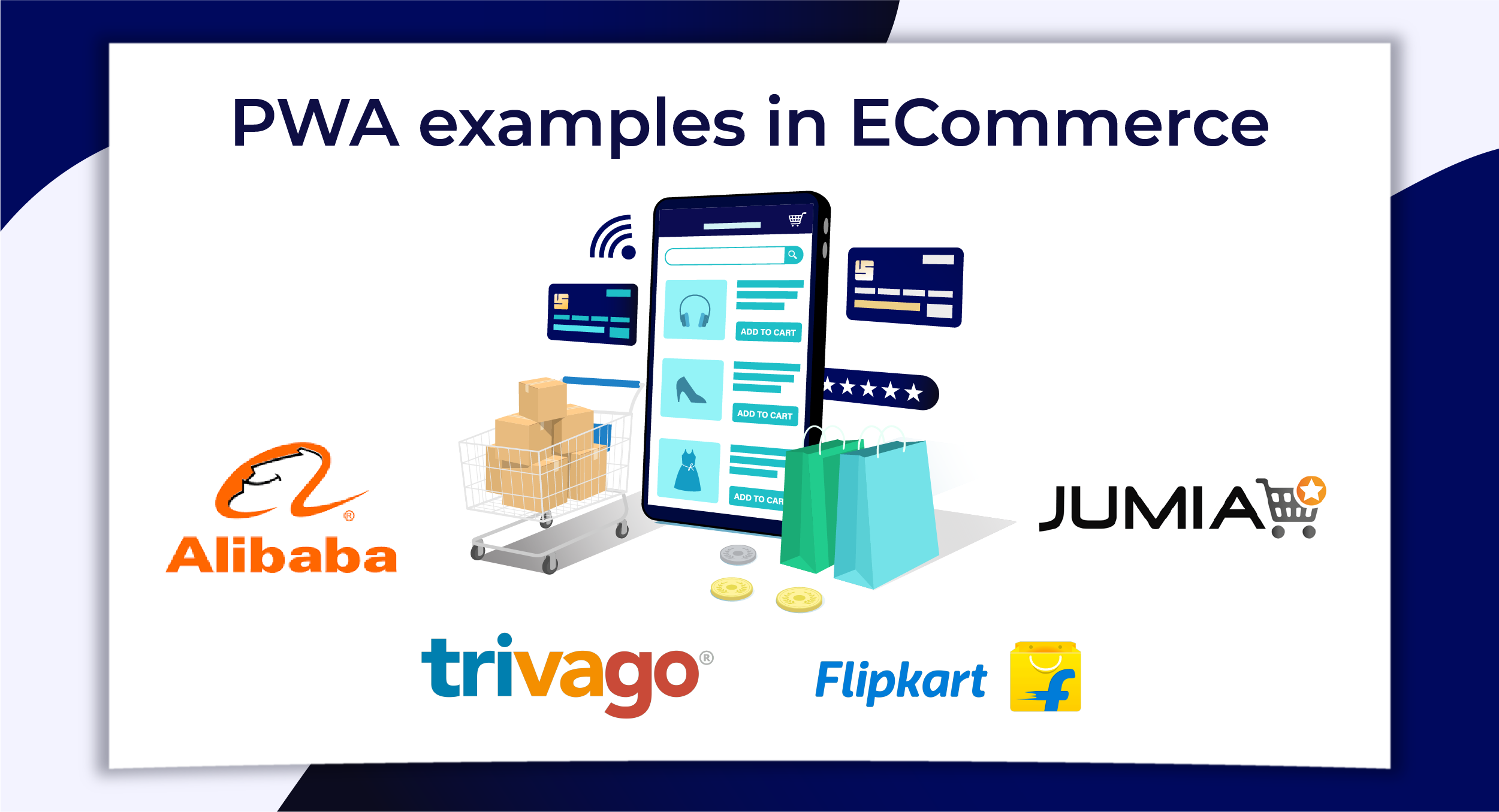 There is no doubt that PWAs are reliable, incredibly fast, and highly engaging. They have found their worth in eCommerce and how. Here are a few examples:
1. India's eCommerce poster boy, Flipkart, adopted the PWA technology and fetched 3X more user engagement and lower data usage and 40% higher re-engagement.
2. Alibaba's PWA achieved around 76% higher conversions across browsers, 4X higher interaction due to the "Add To Homescreen" prompt, and 30% and 14% more monthly active users on Android and iOS.
3. The world's leading hotel search engine, Trivago, increased its user engagement by 150% after launching a PWA.
4. Top African eCommerce site Jumia reduced its bounce rate by 50% and gained 12X more users after introducing a PWA for their online business. They also witnessed a 33% higher conversion rate.
Over to you
PWAs certainly offer a ton of benefits to the eCommerce landscape, enabling online shops to engage users for the long haul and enjoy higher conversions. If you have not given PWAs a thought until now, Mobi PWA is the right choice for you, and you know why! We are the best Progressive Web App builder. So, do not waste time. Just book your demo here to get started with MobiCommerce.