The past few years witnessed mobile devices replace desktop computers as the go-to method for accessing the internet. As a result, mobile soon became essential for eCommerce store owners to communicate and engage with their customers and drive higher sales.
In fact, research shows that mobile eCommerce sales will account for of all eCommerce transactions by the end of this year. Furthermore, mobile accounts for of revenue for prominent B2C companies, and half of all search searches are conducted on smartphones.
Even though a typical optimization process is designed for desktops, optimizing for mobile is a very different ball game altogether.
Having said that, only of customers find shopping on their smartphones convenient, with 67% complaining that product pages and links are often too small to click when they access the eCommerce sites on mobile.
This leaves much scope for eCommerce business owners to make mobile experiences more fun and accessible. To gain an advantage over your competition, you must focus on mobile.
In this blog, we will examine the seven finest tools by MobiCommerce for increasing your Magento store's sales and overall revenue on mobile: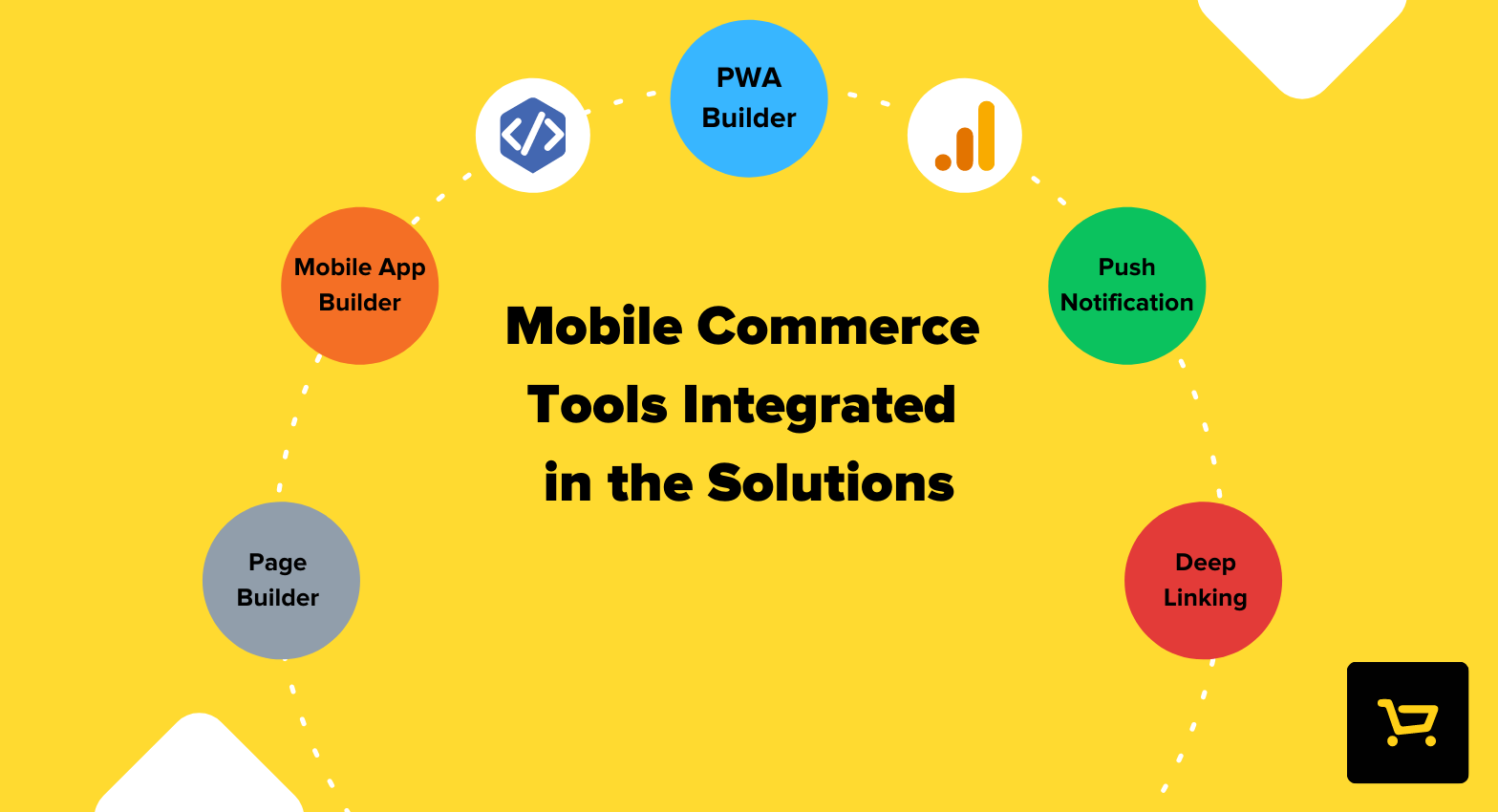 1. PWA Builder
Progressive Web Apps (PWAs) deliver the perfect crossover of web and mobile to attract new customers. MobiCommerce's PWA Builder helps you build solutions compatible with Google Chrome, Firefox, iOS, and Android.
Our new UI has a mobile-focused design, delivering a native app-like experience. Smart Caching allows the customers to browse even without the internet. Spread seasonal cheer with different product collections based on a specific theme, vendor, or pricing.
Add an extension to connect your Magento store with the PWA to reflect whichever products or categories present online in real-time. Also, deploy advanced search capabilities such as product sliders on landing pages, product-specific filters, QR codes, and so on.
2. Mobile App Builder
Since mobile commerce is booming, having a mobile application for your Magento store has become a need instead of an option. With the help of MobiCommerce's Magento 2 Mobile App Builder, launching Android and iOS mobile applications has become a piece of cake.
The builder helps set up full-fledged mobile apps in a matter of minutes. Our no-code solution comes in handy in designing various storefront pages like category pages, homepage, and marketing promotional pages.
You can deploy deep linking to ensure your customers always see the most appropriate and best-selling items on the homepage. Set up automatic and instant updates about new inventory, offers, and sales via the builder.
Moreover, inbuild Google Analytics helps you track customer behaviors, high-ranking product pages, and more. You can also create promo codes and strategize discounts with ease to boost the sales on your Magento mobile app.
3. Page Builder for PWAs and Mobile Apps
If you want to visualize your Magento storefront's interface on mobile without much hassle, you will love MobiCommerce's Page Builder What is more interesting is that you do not require any coding experience. Access 15+ ready-to-use widgets and UI plugins for designing the pages.
Use our Page Builder to design different pages for marketing promotions, product categories, and the homepage. Utilize our Dynamic Product Listing feature to create virtual collections of products as per materials used, colors, different sizes, and gender-specificity patterns.
You can create a theme or season-specific product listings — for instance, Christmas, Diwali, BCFM, and so on. The more creative you get with your sales, the more footfall and conversions you will drive on your storefront.
4. Facebook Pixel and Google analytics
The latest version of our Magento App Builder and PWA Builder also supports Facebook Pixel and Google Analytics to track best-performing pages and storefront visitor behavior.
Facebook Pixel delivers effective ads on the social media channel based on the activities storefront visitors perform on your Magento store. It is an excellent tool for remarketing specific products or categories that they browse through the eCommerce site.
On the other hand, Google Analytics helps you in collecting vital customer data and making data-driven decisions. It tracks page impressions, product clicks, conversions (purchases) so that you can optimize your sales strategy accordingly.
5. Push Notifications
MobiCommerce's Push Notification plugin helps keep your customers about order updates on both desktop computers and mobile. The plugin also creates a custom log that monitors all push notifications that have already been delivered to the customers.
This is an essential feature for the success of the Magento store's revenue. With consistent communication with your target audience, there is a higher chance they might drop in at the storefront.
Over time, push notifications have proven to be a much better alternative than emails. They certainly have a greater readability rate compared to email and SMS, and they never have the problem of ending up in spam folders.
6. Deep Linking for landing page promotions
A technology interconnecting the mobile apps similar to how the web operates with clickable links, deep linking takes the users to specific areas in the storefront within the app itself instead of loading the app every time.
Our Deep Linking functionality lets you set up various product collections and showcase them on any app page or display only the most relevant products or categories on a specific landing page — a boon if you are looking to execute marketing campaigns.
This is convenient in terms of user experience and enables customers to browse through what they are looking for easily, which ultimately adds to higher sales.
7. Delivery Date and Time Slots Selection
Since, as an eCommerce company, you can make order deliveries for customers, it helps if they can schedule their affairs properly and receive the order when it is delivered to them. With our delivery date and time scheduler, you can also save resources on not answering frequent customer queries or dealing with failed delivery attempts.
Over to you
At the end of the day, your customers' purchasing power is actually in their hands. Your goal is to increase your exposure on mobile and bring your company to their attention. To drive higher sales and ROI, you need to ensure your user experience on mobile is top-notch.
With our brilliant features, please be assured to significantly lower abandonment rates and increase conversions rather easily.