A few years ago, people couldn't have imagined that new technology could imitate the native-app experience. However, as the demand for mobile apps is growing exponentially, developers are focusing more on launching cross-platform apps that offer the native-app experience to users.
You can use the PWA builder to launch the progressive web app for your website and offer a seamless and uninterrupted shopping experience to your audience.
How is PWA Helping eCommerce Sites Grow?
Fast Installation
PWAs have made the app installation procedure a whole lot smoother and faster for your audience. Now, they no longer need to wait for the apps to be downloaded on their smartphones. PWAs are easy and fast to install, and they can be accessed on a desktop.
Better Performance
Performance is never a concern with these modern desktop apps. They load faster than websites, give a native-app-like feel, and feature an interface that looks similar to the website. Overall, PWA gives you a wonderful experience.
No Update Issues
Your customers will never be bothered or bombarded with notifications asking them to upgrade the app for the best experience. These apps are updated automatically. The best part is your customers do not have to install the updates in batches. Every time they visit the PWA, they will get the updated interface.
Access to a Wider Audience
Progressive Web Apps are designed for all types of users. These apps run smoothly on all smartphones and they fit all screens seamlessly. This is one of the qualities that set PWAs apart from standard mobile apps. The best part is that these apps can be shared through a link and accessed easily, making them a better and convenient option for smartphone users.
Native app-like experience on the web:
Though you get to launch mobile apps for different platforms with the same code in PWAs, you don't have to worry about the customer experience. PWAs offer the same level of experience you get from native apps.
In addition, the notification-enabled function makes it easy for consumers to stay updated. What is even more impressive is that you do not have to enter the website's name all the time as it saves as an icon on your home screen. Desktop installation is also possible with PWAs allowing you to start shopping for your favorite products online.
Low development cost and time:
Now, it's possible to develop a mobile app that works on Android, iOS, and windows without having to use separate codes for each platform.
With the help of PWA, there is no need to develop a separate mobile app. Generally, every e-commerce business owns a website and uses PWA progressive app to offer consumers a better opportunity to shop online.
PWAs do not require any extra budget for development but can offer excellent ROI value, which is remarkable. Not only does it save you the time of writing the lengthy codes for differen devices, but it's quite a cost-effective solution to the native apps that are built separately.
Speed and Accessibility:
Research shows that people are likely to abandon a website if it doesn't load within 3 seconds. Speed is your customers' priority, and PWA can guarantee a speedy website browsing experience as these apps are designed to load quickly. These apps are built on modern frameworks. Plus, they come packed with the latest technology that speeds up their loading time.
Moreover, PWA loads the program with the help of cache to remain active even when the network is poor. Simply put, it is possible for your customers to access the progressive web app without connecting to Wi-Fi.
Better conversion:
As an eCommerce store owner, it's your job to ensure that your audience enjoys seamless and uninterrupted connectivity when shopping from your website. Not only do they need a fast-loading platform, but they look for a user-friendly interface. The better experience your customers get from eCommerce shopping, the higher your conversions will be.
Take Alibaba, for example. The company reported an increase in its conversion by up to 76% after it embraced progressive web apps.
Better marketing Opportunities:
PWA e-commerce development has brought great benefits to online businesses. One of the most significant advantages of PWA is that it can be used for SEO, unlike apps, as they are not found on the web. This allows PWA to be more reachable to its consumers, increasing the market opportunity.
Quick Response:
Generally, apps in the app store take a lot of time to load, unlike PWAs. The PWAs load programs using cache and can run on devices connected to unstable and poor connections. The ability to allow consumers to shop on ecommerce websites offline makes PWAs the most reliable and efficient option.
Offline experience:
PWA solution development has brought forward immense improvements allowing consumers to shop on e-commerce websites, even offline. Users that rely on 2G and 3G connections may face several connectivity issues, which can make online shopping a hassle. The app can cache all the activities executed offline, and the data is automatically saved once your device is reconnected to the internet.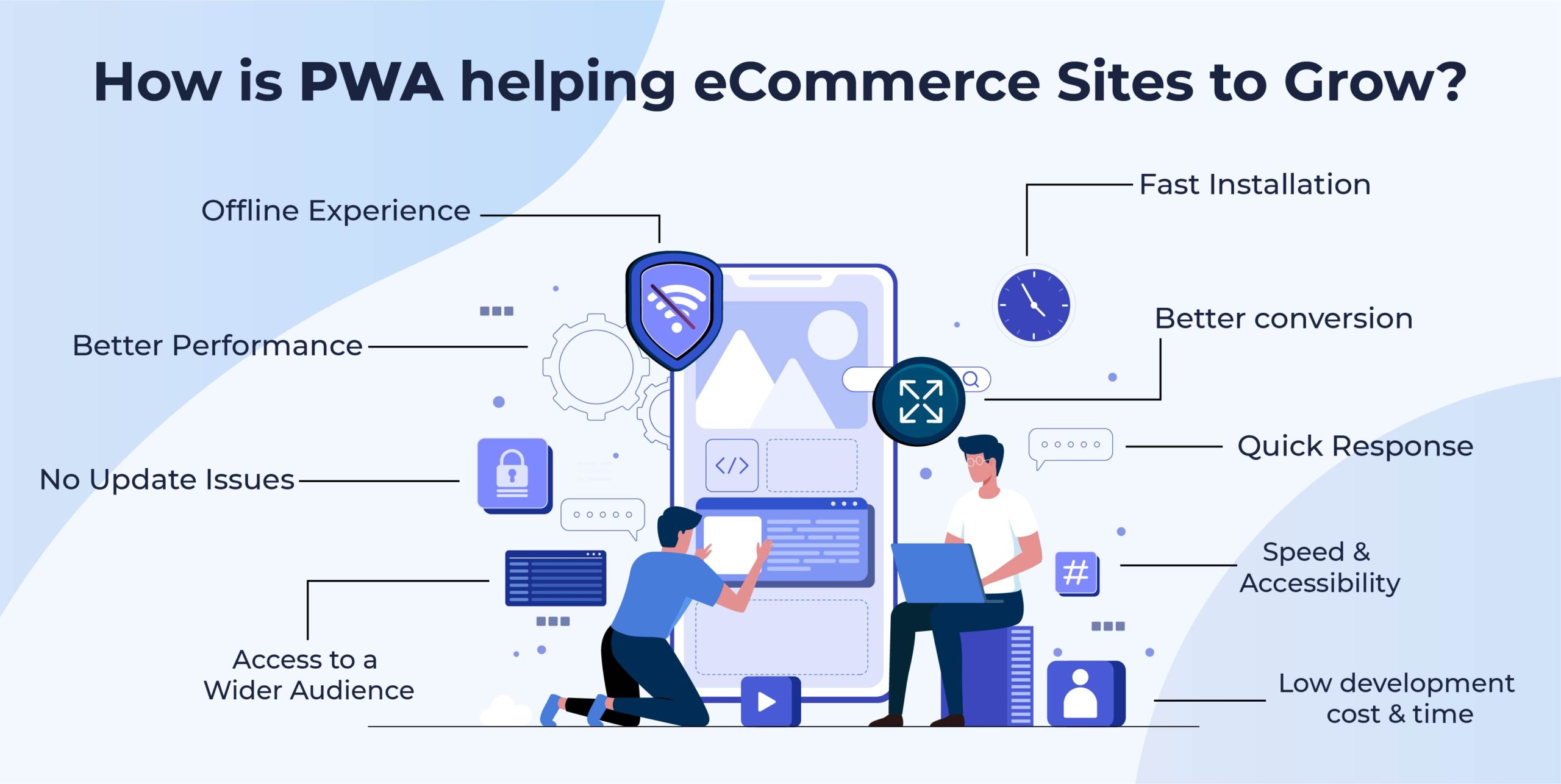 PWA Success Story:
Tripoto:
Though there was excessive competition in the travel industry, Tripoto remained at the top as they chose Progressive Web App. They were able to enhance the user experience by offering an uninterrupted service irrespective of the network. Consumers looking for travel details online on Tripoto face no issues as it works on the PWA platform. Tripoto has reported improvements in its services after incorporating PWA into its website. Using PWA, there have been considerable developments in Tripoto. To this day, Tripoto has a 100% increase in click-through by travel enthusiasts and a 100% increase in revisits.
Book my Show: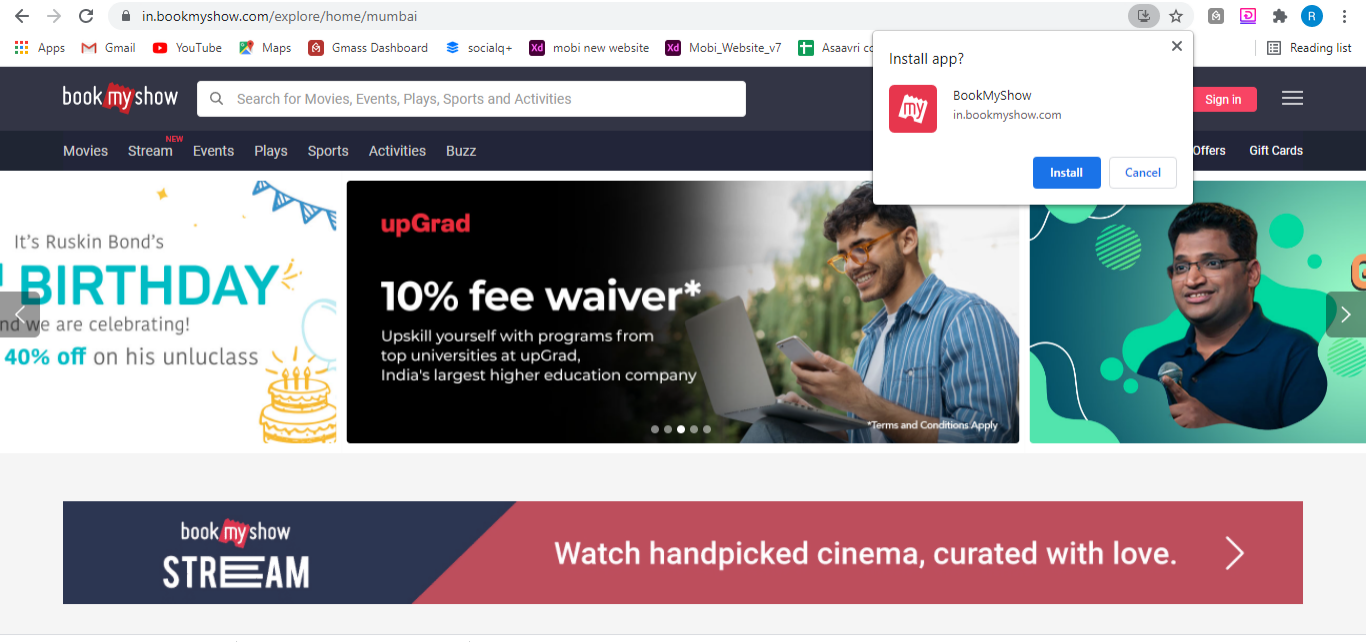 PWA has served as a blessing in disguise for India's No. 1 ticketing firm Book My Show. Book My Show witnessed a whopping growth in its conversion, i.e. by 80%, after it launched the PWA. The size of the PWA is almost 54 times smaller than the app, offering consumers uninterrupted browsing and online booking experience. The PWA takes less than 3 seconds to load, and users can check out within 30 seconds. Book my show enjoys a huge mobile user base.
Conclusion:
PWAs are one of the best platforms for e-commerce consumers as it offers several benefits to eCommerce stores and customers. It is fast, reliable, offline, and secure channels for browsing the internet, occupying very little space and memory.