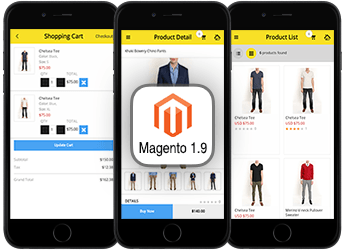 We are pretty sure a lot of Magento fans like us were eagerly waiting for a Magento theme that is intuitive yet responsive. Well the wait ends and here comes Magento CE 1.9.
Magento CE 1.9 comes with a lot of new enhanced features to improve the user experience to list a few:
It is Responsive: Since the version emphasizes on responsiveness, it has been designed to for the customers to view information in devices and screens of multiple sizes.
Enhanced Header/ Menu Structure: To improve the user experience and keeping the design most simple a lot of menus have been condensed and re-structured in a drop-down option.
Improved Check Out: The improved checkout process allows users to change the quality and also payment option which leads towards smooth checkout process.
Magento 1.9 is a real step towards improvement of functionality and performance and we are glad to announce MobiCommerce Supports Magento CE 1.9 and our MobiConnector works on Magento 1.9 and seamlessly communicates with mobile App. You can easily Build Mobile App for Magento 1.9 Now, with just a few clicks.