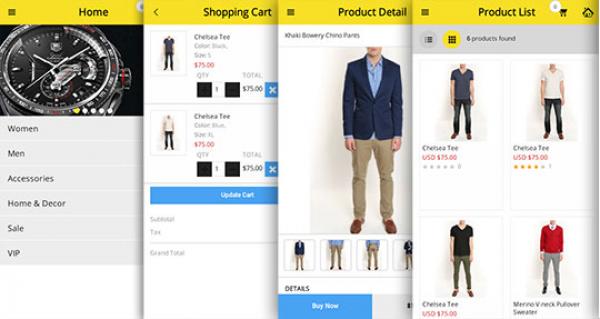 MobiCommerce the smarter way of moving your e-commerce business to m-commerce is all set to cater to the needs and demands of the industry. The easy App builder enables you to start your mobile store within just few minutes without any professional training. The robust platform comes with dynamic themes to choose from based on your line of business. An application built over MobiCommerce platform functions as smooth and easy as any other e-commerce website and gives all the basic to intricate functionalities a customer might use while making an online purchase.
New App Features
The Application will support all the languages supported by the site
Supports all the payment options which will be there on the web store
The App also supports PayPal Mobile payment option
Content Management System:
Site Admin can link the App with their social media pages; supports almost all the popular social media platforms i.e. Facebook, Twitter, Linkedin, Google+, YouTube, Pinterest, Blog.
Site Admin has access to updating the below company information:

Company Name
Address
Enter Email Address and Phone Number at the front end for users to call the store owners directly.
MobiCommerce provides total 7 pages to be managed;admin has all the rights to enter information based on the requirement. Any page left blank will not be displayed at the front end.
Admin has the controls of defining below pages:

Page Title
External Page (Yes/ No options)
If it is external page than admin can enter the site URL in the "URL" field which will appear while browsing the App
If there is no external page than it will have a "Content" fields with HTML editor (with limited features) to enter the info.
User Module:
User friendly user module enables a user to login and sign up without the checkout Process
A systematic order history and order details can be viewed by a user upon logging in
Facility of adding favorite items to the wish list for future purchase
Product search via entering Keyword in the search box facility available
End user can enter the promotion / discount code while checking out for Payment