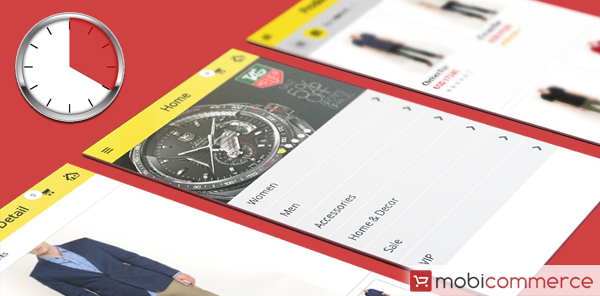 In order to enhance the user experience MobiCommerce made some technological enhancements. We understand the importance of time and the mindset of mobile shoppers thoroughly, a mobile shopper would judge mobile application based on the mobile performance and the user friendliness. Considering the user experience MobiCommerce leverages latest technology and enhances the performance of the apps.
We understand it becomes very frustrating for the mobile shoppers which leads them to just dropout from the application and no business for the mobile store owner.
Our application experts have better cache technology which has improved the application three times compared to earlier. This has drastically reduced the loading time while navigating between two pages of the application. The enhancement has proved to be a reward for those mobile apps owners who had been facing complains from their shoppers for their app being very slow at the same time loss due to shoppers dropping out from the application due non user-friendly application.
Post making the enhancement live, during the testing phase we came across some amazing facts which are an achievement in its own we noticed:
Initially application loading was taking 20+ Seconds which has now reduced to less than 4 seconds,
Initially Product Listing page was taking 7 seconds which now takes less than 2 seconds,
Earlier the Product detail page was taking 7 seconds to load which now takes less than 2 seconds,
And all the other pages were taking 7 sec which has now reduced to less than 2 seconds.
We wish an amazing shopping experience to all the app users who are using applications build over MobiCommerce.