Magento is an open-source E-commerce platform designed by Varien Inc but has been extremely improved by eBay over time to give seamless and efficient online commerce experience.
Magento mobile app has evolved since its first launch in 2008. And, over this time, its viability, mobile app extensions and features have brought about global acceptance and made Magento one of the few preferred E-commerce platforms across the globe.
According to a research by AheadWorks in 2015, Magento accounted for almost 30% of the market share among the dominant e-commerce platforms around the world.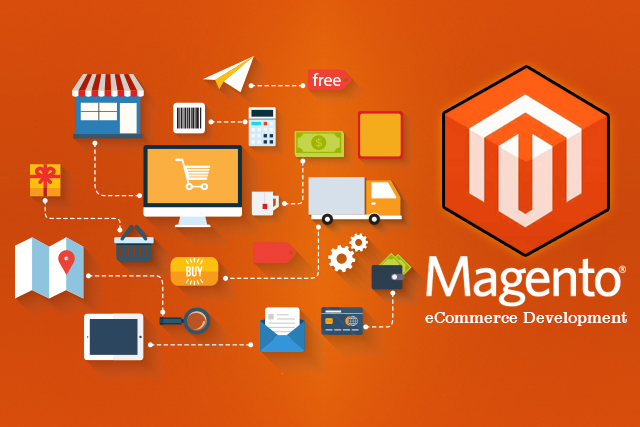 Further reports beside this have also shown that Magento, WooCommerce, PrestaShop among others are still enjoying massive public trust and patronage till date. In another report by builtwith, showing statistics for websites that deploy E-commerce technologies on their platforms, Magento had a total of 18 percent market share when compared with all the other E-commerce sources in the survey.
In another report by Builtwith, where Magento's reach was investigated based on the number countries and the size of use, the result couldn't have been more revealing. It will amaze you that the countries with the most vibrant E-commerce businesses around the world are the ones using Magento the most.
So, it's obvious that Magento is simply one of the most preferred and dominant E-commerce platforms across the world today. And, when you consider the amount of time and access to mobile devices in these countries compared with the ease with which you can build efficient Magento mobile app, you will begin to appreciate why the spread is growing consistently.
For clarity, let's consider the reasons behind Magento's soaring reputation and acceptance across the world.
Outstanding Features of Magento
First, you need to understand that Magento has managed to provide simple and efficient mobile applications over the year. Magento has continued to push the frontiers of mobile commerce like very few E-commerce platforms have done.
Across industries, platforms and countries, Magento's mobile apps development and innovations have continued to raise the bar. It is compatible with Android, iPhones, Dropads, Ipad and many more mobile platforms with growing features that increase users' experience and give improved security.
But, why should cutting-edge mobile solutions be relevant to the revolutionary growth recorded by Magento?
1) The whole world is going digital
Interestingly, a report on Business Insider in December 2016 says adults in the States spent a whopping 59% of their time on mobile devices while the other fraction gets the attention of desktops.
For the market shares and size of m-commerce, Business Insider projected that m-commerce would rise almost 200% between 2014 and 2020. More specifically, the m-commerce industry which represented just 11.6% of the 303 billion dollars of U.S. e-commerce in 2014 will grow to over 45% by 2020.
This information is well represented in the diagram below.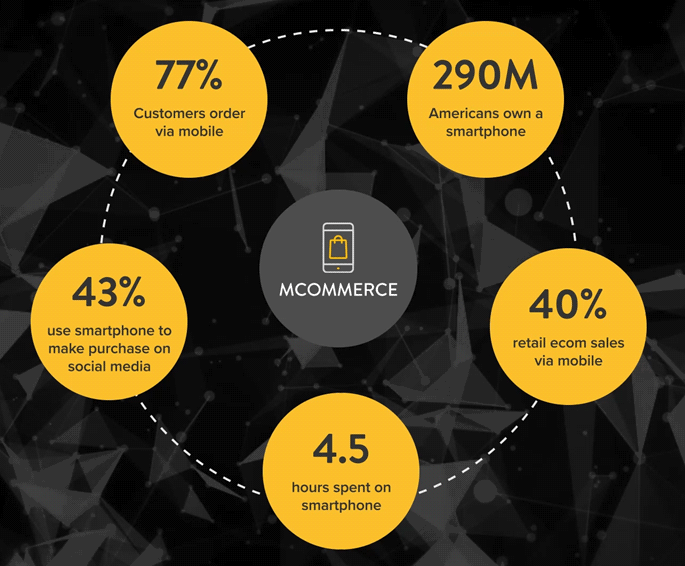 To validate the huge access and use of mobile devices for digital media and commerce, the infographic below shows the time spent by adults on digital media and the devices used in accessing the channels.
The implication of the data above is simple: more people will be reached on the digital media through mobile platforms than any others.
Fortunately for Magento, it has been able to provide efficient and secured mobile apps across devices and has consistently built Magento mobile apps that are designed to seamlessly address important mobile-commerce related challenges.
2) Popularity of Magento Platforms and its quality products
Secondly, Magento has developed amazingly quality applications to drive secured and trusted E-commerce platforms over the years. The three popular platforms with unique and increasingly distinct features to meet individual needs are Magento Community Edition, Magento Enterprise Edition and, the last is Magento Enterprise Cloud Edition.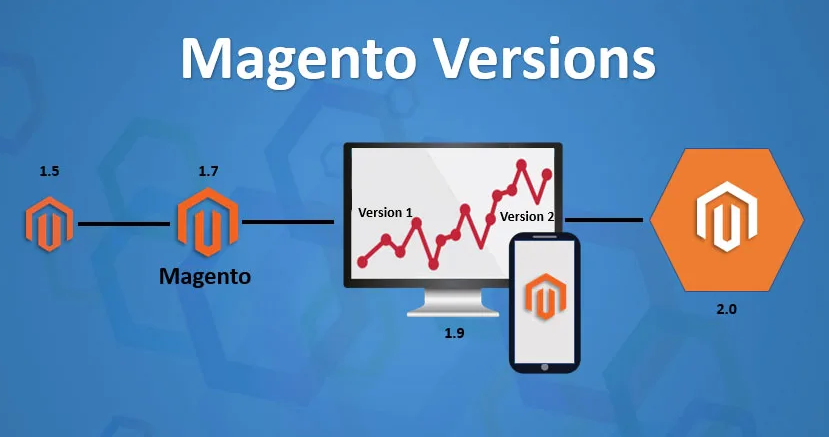 Magento Community Edition
It is Magento's first solution for E-commerce in Magento 2. Since it was released, it has undergone a lot of touches and renovations which have improved its functionality and fluidity on E-commerce platforms. It is mainly appropriate for small E-commerce stores and businesses.
Magento Enterprise Edition
It is a premium edition of the solution, and it is an upgrade to the Magento Community Edition. This is particularly designed to accommodate the huge demands of the large businesses. Though no hosting is necessary for this edition, it gives room for detailed technical supports.
It is good for large businesses that need flexibility and ease of hosting. The most recent versions of Magento Enterprise Edition are EE 1.14.2.4 and, EE 2.0.4 released earlier in 2016.
Enterprise Cloud Edition (ECE)
It is another edition of Magento E-commerce solution. Released also in April 2016, it is the most advanced of the three editions. It gives rooms for hosting by Magento and takes away the concerns and fear of quality hosting services with unraveled security.
Here, there is a lot of room for customised, scalable web store front with globally respected security supports during transactions. ECE is also a full REST API with scriptable interfaces that easy integration with external systems.
Some of the standout points of the ECE are:
It's real-time content delivery network that quickly diagnoses speed problems and gives automated defense against DDoS (Distributed Denial of Service), a type of DOS attacks.
Consistent and life monitoring interface on the application performance.
Blacfire.io is embedded in this edition that monitors and shows performances of how all your pages work together giving you regular updates on dormant and active pages.
So, if you are considering applications with excellent search engine optimization solutions, mobile compatibility and usability, dependable and regular technical supports, fast and secured processes and opportunity for varied and unique customization inputs, Magento is about your finest option. You can also deploy an enormous number of features that will give you better experiences with Magento on your platform.
Which edition of Magento would you consider best for you?
Which of the editions would give you the best as a business owner and digital media user? That depend a lot on what you want or the kind of business you plan to operate. You need to recognize that your depth of need will determine which of the edition is best for you.
One reason why you might choose the community edition is the issue of size. The smaller your business is, the more advisable for you to go for the community edition. While bigger businesses will benefit more from the enterprise and cloud editions.
The resources needed for enterprise and cloud is not also advisable for small businesses. It is designed for the guys with the big wallets.
Again, with enterprise and cloud editions, you can also decide how much of manpower and time you want to deploy for hosting. Magento offers you the options of flexibility and freedom on hosting with these editions.
However, whichever the editions you choose, with Magento, you are guaranteed flexibility, fluidity, quality shopping and customer experience, online security, and world-class services.
Summary
Today, Magento is a leading E-commerce platform used by millions of people across the world because of its promises and deliveries.
From the flexibility of use to high security details, different alternatives that give users an avalanche of options and modular interfaces, the amazingly growing number of plug-ins and features being developed for it, Magento has proven that it's here for real business.
If you want to enjoy limitless boundaries and growing innovations coupled with security on your E-commerce platform, you have a good deal in Magento.