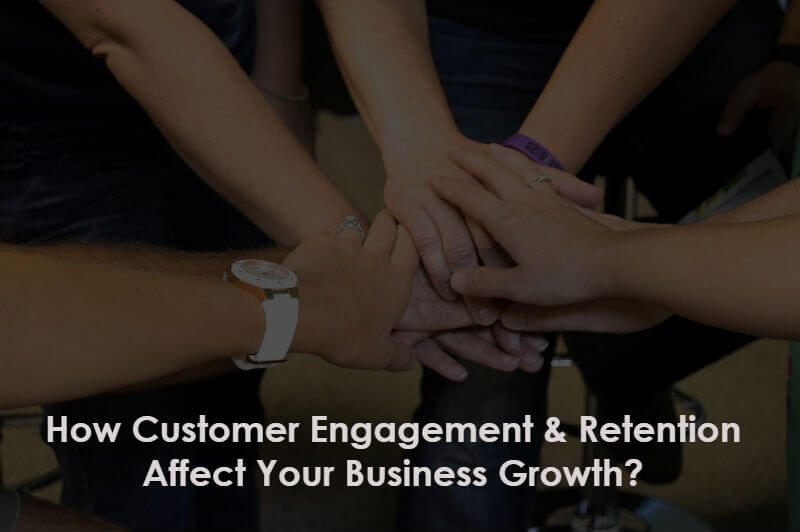 Most businesses concentrate on customer acquisition. However, have you ever thought that customer retention is also very important? There is no point in adding new customers if you cannot retain them. To grow any business you need to have a loyal and good number of customers in your database. For any business to grow it becomes important that you have a strategy in place.
There are some facts on Customer Acquisition & Retention that you need to know
Customer Acquisition can be 6-7 times costly than retaining your existing ones.
Businesses that focused on Customer retention by 5% saw their profits increasing from 5% to 95%.
20% of your customer base that is loyal customer drive an additional 80% of the business.
Effects of losing a customer
There will be a drop in your sales and revenue.
You lose the chance to up-sell because selling something to an existing customer is much easier than selling to new ones.
You will not receive feedback; hence, there will be no room for improvement left.
Your Competitors will take due advantage of this opportunity.
You will not be able to concentrate on your other important work or businesses.
Why is Customer Engagement & Retention Important for Business?
You have an online or an offline business, but customer satisfaction is the most important of all.
According to a research,
"More than 63% organizations said that engagement is likely converted in repeat purchases."
The more you plan strategies to engage your customers maybe through some offers or contest; they will more likely be hitched to your products and services.
If you can engage your customers, they will influence more people to join your business.
As per Adobe's report, if online retailers retained 10% of their existing customers, they would double their revenue.
Read more: Top 7 Mobile App Features For Better Customer Engagement
Want to increase customer retention through engagement, try these few methods:
Easy on-boarding process
It is important that the on-boarding process is simple and easy. It will reduce your abandonment rates. If your mobile app is too complicated in the beginning then chances of users deleting the app are more. Have a simple sign in steps, rather than having too many steps because of which customers lose their interest. As the first impression is important, similarly first user experience is something that cannot be ignored. Make an easy login and account creation steps.
"Having an effective on-boarding process will increase your user lifetime value by 500%."
Send Push Notifications
Using push notification has shown an increase in app user retention by 56%. It has been noticed that those users who have opted for getting push notifications have been engaged in the app 88% more than others have. Through push notifications, you can keep them active and notified about the mobile app and its offers and services.
"For opted-in users, the average 30-day audience retention rate is increased by 125 percent."
Speed Matters a Lot
Today everyone is impatient. No one will want to wait for more than 3 seconds for the mobile app or website to load. More than 40% of users bounce from the website because it takes more than 3 seconds to load. Speed has become the most important feature for any app, if the speed is good, the customer will definitely go deep in the app. However, if the speed is bad then you will possibly never the user again.
Use Deep Link
The SMS, push notification or emails that you send will hold more power when you use the deep link in your app. If the user redirected to the target page and does not have to look for the product or services in the offer they are going to use your app more.
Incentivize
If you want your users to re-engage and get retain it is important that they come to your mobile application. Announcing rewards and incentives to use the app will encourage them to come to the app. This way you can retain your customers.
Closing Note
User Engagement and retention are co-related. If you want to retain your mobile app users, you need to keep them engaged. You can use the above ways to engage your users in the app so that they can be retained. Your app will then have an amazing impact in the competitive market.