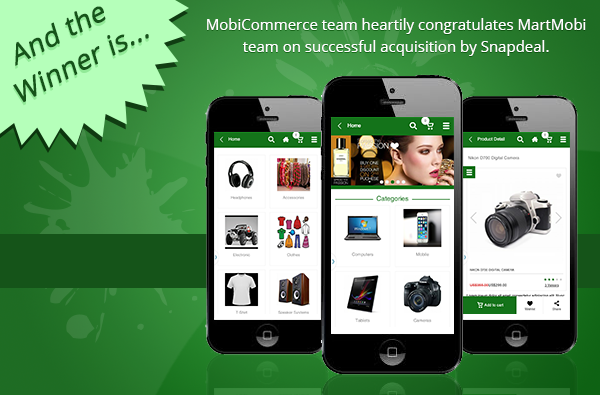 MobiCommerce team heartily congratulates MartMobi team on the successful acquisition by Snapdeal.
Hyderabad-based MartMobi has a mobile-specific platform and solutions that allow small and medium-sized businesses and brands to build mobile stores and apps that can connect with customers' existing back-end systems very similar to what MobiCommerce does.
This acquisition is one of the smart moves by Snapdeal to take it ahead in eCommerce war against 2 major competitors as MartMobi team is highly efficient and can strengthen Snapdeal's mobility platform which is used by 75% of its customers. It will not only strengthen its mobile presence but also attract more vendors to sell their product on this marketplace. By acquiring this technology, snapdeal may offer mobile apps to their sellers and open new revenue models as well.
We wish for a great success ahead to both teams with this endeavor.