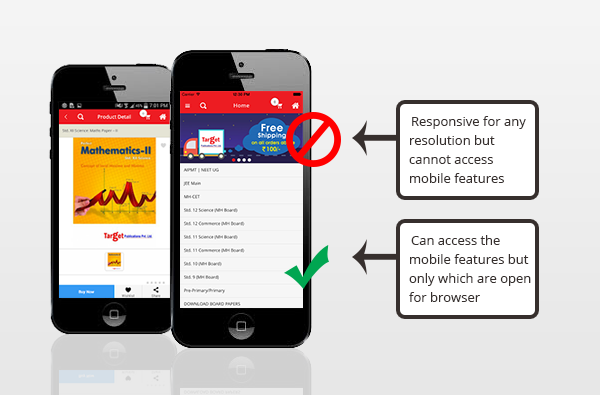 Creating an effective online and mobile presence is critical for businesses to stay competitive and relevant to their customers. Ecommerce and Mcommerce are two ways in which businesses have stepped closer to their customers and kept them digitally engaged. Mobile Websites are responsive designs which enable websites to be available to users accessing a website using a mobile. Mobile apps are the application designed to run on mobile devices.
People believe that a mobile website will suffice their need and they do not need an application. A user trying to access a website using mobile can easily be satiated with a responsive website which is designed for smaller screens. They are not wrong. A mobile website is important and has many advantages like it's easier to maintain, cheaper, easy to setup and works on all the devices.
But a closer look will let us to myriads of reason why one should also go for a mobile application. There are various features which an application can provide and a mobile website cannot. These are as under:
Push to notification
Offline access
App Store presence
Optimization
Performance
Design and Usability
At a small extra expense and set up overhead there are immense benefits lying at disposal via a mobile app. It helps in building customer loyalty and keeps the customer engaged. Any new notification can easily reach your audience, thus providing an easy way to market your new product/service.
Does this all means that mobile application is the Winner? No, not at all. It is just a way to say that they complement each other and it is always beneficial for businesses to go for both and open up to the benefits of both a mobile website and a mobile app.