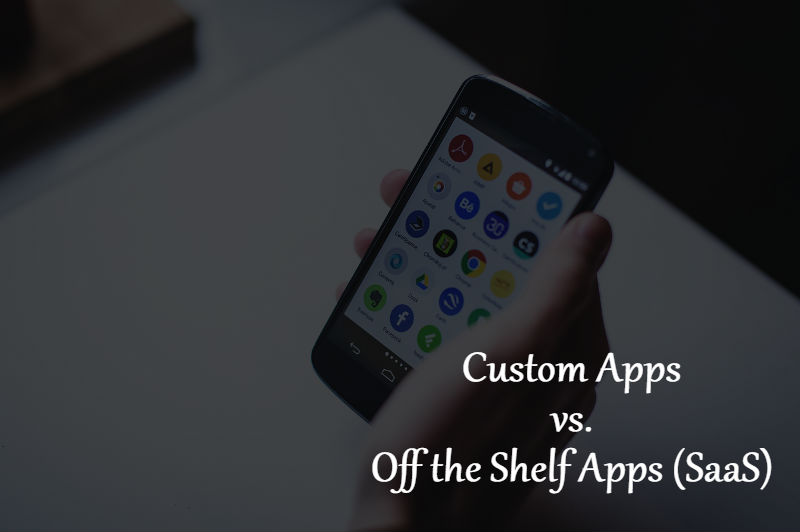 Having a strong mobile strategy is very crucial for an eCommerce business to win in this tough & competitive market. Retaining, gaining, winning customers and improving its cost efficiency is another crucial point for the growth of the business. By 2018, the mobile app market will grow $61 Billion. Many companies have still not been able to establish what kind of an app they want for their business. So the most important question you need to ask is what kind of an app they are looking for – a customized mobile app or an off the shelf app (SaaS).
Custom apps are more in demand for many reasons such as it is personalized as per your business requirements. These are targeted towards a specific group or audience whom you wish to sell your products or services. You must have features are directly available. Check a few reasons why custom apps are preferred over off-the-shelf apps (SaaS).
Customized Apps
Not all companies will give you the privilege to customize your apps. If you want to target a particular kind of audience then only customized apps will give you this feature. There may be a possibility you might want changes in the apps as per your customer's and business requirements, this is not possible in the off-the-shelf apps. There may be instances when you want some different customization that all will not provide, at that time you will need to move to another mobile commerce app builder software. Instead of choosing off the shelf app (SaaS) builder choose customized ones.
Ownership of the Product
Opting for custom apps gives you the ownership of the product. This one benefit is not given to the off-the-shelf app owners. This gives you the liberty to update your app as per the market's current needs. This can be a bigger reason for the success of your app.
Personalized Experience
User Interface (UI) of an app is of great importance as it affects the app experience of the user or the user experience (UX). You can ask for customization in the UI of the app as per your business needs when you choose the custom app development company. You can also build your app either on Magento Plugin or PrestaShop Module. You can tailor the UI, test it, and then authenticate it to ensure it meets your customer's expectations. It also helps in enhancing user engagement and retention programs. This also ensures that your users are going to use this for a longer period. If provide your customers with a consistent and flawless experience with personalization then customized apps are your answer.
Long-Term Future Development
It is a challenge to develop an app keeping in mind that it will work for long term. All successful apps need some changes depending on the demands and customer behavior. While investing in an app make sure it addresses all your current and future needs, and this feature will not be available with the off-the-shelf apps. If your app does not allow extensibility then there is no use of investing in such a big thing. Technology has been invented to ease your work not make it difficult. Choosing a custom app ensures long-term stability in the market.
Compatibility
Your app has to be compatible with different devices. If your app is not compatible then you will lose the customers who are on different devices. You can choose which devices you want your app to be compatible with when you plan to develop it. Hopping devices has become the new trend hence have a multiple device compatible app will ensure your users stay loyal to you.
Conclusion
Developing app does require an investment and lot of time. If you want your app and business to be a success then you must ensure that you opt for a custom mobile app development company with best prices and features. Though there are many still using the off-the-shelf app, the demand for custom apps is more. They meet the needs and requirement of the business and the customers giving profitable results.